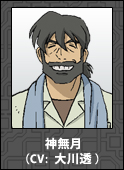 Kannazuki (神無月) Voiced by: Tōru Ōkawa
He works in the garden always caring for the plants. He doesn't have any powers. His family were protecting the Tokitsu Namida, which is a crystal which sealed Quon's younger brother, Towa, and protecting Quon himself.
His full name is Seiji Kannzuki (神無月星志)
His English voice actor is David Wald.